Ear to the River 2021 Survey Results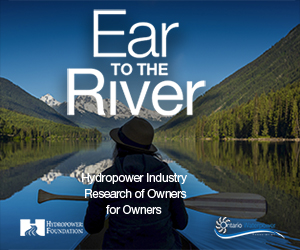 Download Your Free Copy!
The Ear to the River survey is a new annual survey of the North American hydroelectric industry that was developed through a partnership between the Ontario Waterpower Association (OWA), the Hydropower Foundation, and Kleinschmidt Associates in 2021.  The intent of this survey is to help hydro owners understand what other owners are doing and thinking across North America. This survey is FOR owners BY owners.
Partners and industry advisors worked to develop the focus of the survey, which for the inaugural edition focused primarily on future markets for hydropower. A professional survey firm, GreatBlue Research, conducted and managed the survey effort. GreatBlue also conducted personal interviews with several hydropower owners to add qualitative context to the results.
All respondents and individual responses are confidential and results have been presented by industry segment and geographic region.