Ear to the River 2021 Survey Results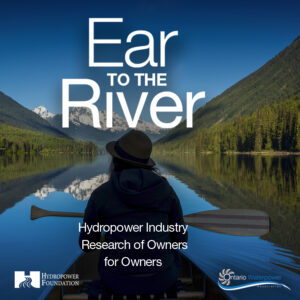 We are pleased to present the findings from the second year of the "Ear to the River" survey, an annual initiative exploring the North American hydroelectric industry. This survey was created through a collaborative effort between the Ontario Waterpower Association, the Hydropower Foundation, and Kleinschmidt Associates in 2021. The survey's primary objective is to provide insights beyond publicly available information, such as FERC filings, which may not fully capture the industry's future trajectory.
The "Ear to the River" survey offers valuable insights to hydroelectric asset owners by showcasing the strategies and perspectives of their industry peers across North America. Moreover, it supports advocacy efforts by supplying data on the potential impact of various policies on the industry's role in the clean energy transition. Additionally, the survey assists vendors and suppliers in identifying opportunities within this flourishing clean energy sector.
Our partners and industry advisors have carefully crafted the survey's focus while GreatBlue Research, a professional survey firm, conducted and managed the research process. The survey was open until mid-November 2022, and we are now delighted to share the final results. We have maintained the confidentiality of all respondents and individual responses, presenting the findings by industry segment and geographic region wherever possible.
Click the link below view the online version, and downloadable version!