Recent EPA Actions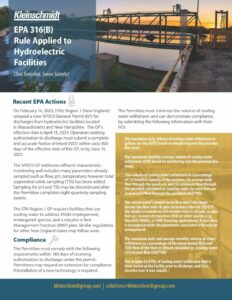 The EPA has recently announced the updated NPDES General Permit (GP) guidelines for hydroelectric facilities in Massachusetts and New Hampshire, and it's essential to take prompt action. As of April 15, 2023, operators are required to submit a Notice of Intent (NOI) by June 14, 2023, in order to maintain compliance with the new regulations. We are here to support you in navigating these changes and ensuring a seamless transition.
What's new in the GP?
Total Suspended Solids (TSS) sampling added
316(b) impingement requirements for cooling water
Endangered species protection
Best Management Practices (BMP) plan
Following authorization to discharge, a 180-day window is provided for compliance. If needed, you may request an extension to accommodate the installation of new technology. It is vital to keep in mind the four options for satisfying 316(b) impingement mortality and address endangered species concerns. Our team is committed to helping you keep your hydroelectric facility both energized and in compliance with the most recent EPA regulations. We are at your service!
Click the link below to view the presentation and download the PDF!
EPA 316(B) Rule Applied to Hydroelectric Facilities (kleinschmidtgroup.com)