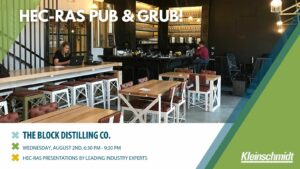 Portland, Oregon – Kleinschmidt is pleased to announce the upcoming HEC-RAS Pub & Grub event in Denver, CO, on August 2nd, beginning at 6:30 P.M. This free-to-attend gathering offers modelers a unique opportunity to connect with peers, engage in informal discussions, and receive expert insights to address their inquiries. The event will occur at The Block Distilling Co., featuring presentations by renowned industry experts, including Chris Goodell, Ben Cary, Simon Draijer, David Williams, and Tony Wahl. Attendees can expect an enriching experience that combines learning, networking, and enjoyment in a relaxed atmosphere.
The HEC-RAS Pub & Grub event encourages knowledge sharing, discussion, and a vibrant exchange of ideas while allowing participants to unwind and savor a selection of cold beverages. Food trucks will also be conveniently located nearby to provide attendees snack options throughout the event.
Click here for more information and RSVP today. We encourage you to RSVP promptly, as space is limited for this highly anticipated gathering of professionals.
This event, led by Chris Goodell and Ben Cary, accomplished experts in the field, promises a comprehensive learning experience that will elevate participants' proficiency in HEC-RAS. Chris Goodell's widely acclaimed blog, The RAS Solution, is a go-to resource for engineers and water resource professionals seeking valuable insights. For inquiries or further information, please get in touch with us at hec-ras@kleinschmidtgroup.com.
About Kleinschmidt
Kleinschmidt Associates performs engineering, regulatory and environmental consulting for North American energy companies and government agencies who strive to protect and enhance the natural environment without compromising performance. We work at the intersection of regulatory requirements, environmental science, and engineering solutions to achieve our client's objectives.
For over half a century, Kleinschmidt has continually delivered new ideas that offer practical solutions to challenging and sensitive problems. Our goal is to balance energy, water, and the environment so future generations will thrive. For more information, visit kleinschmidtgroup.com.