Pittsfield, Maine – August 4, 2020 – The Zweig Group, a leading research, publishing, and advisory services consultant in the AEC industry, has recognized Kleinschmidt Associates as a winner of the 2020 Best Firms to Work for Award. This award honors the best architecture, planning, environmental and construction firms to work for in North America. Firms were evaluated comprehensively on firm culture, workplace practices, employee benefits, employee retention rates, professional development, and more – from both management and staff perspective. Awards were given in multiple categories based on firm size and discipline.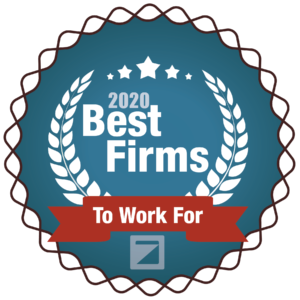 "Our employees work extremely hard to develop their technical excellence in order to serve our clients' needs, while creating a culture and workplace in which people thrive demonstrates leadership and ownership at every level of the firm," says Susan Ouellette, Director of Human Resources, "This recognition is always special, but it is secondary to the valuable input we receive from our people. We use their feedback to help support the benefit and career development programs that provide us the opportunity to attract and retain the best talent in our industry.
The annual contest yields over 2.3 million benchmarking data points on everything from culture and values, career opportunities, and leadership in the AEC industry.
Winners will be honored at the 2020 Elevate AEC Conference in Denver, CO, September 30- October 2 and at Zweig Group's Virtual Elevate AEC Conference on October 16. Winners will be featured in Zweig Group's weekly management newsletter, The Zweig Letter, and Zweig Group's other marketing channels.
About Kleinschmidt
Kleinschmidt Associates performs engineering, regulatory and environmental consulting for North American energy companies and governmental agencies who strive to protect and enhance the natural environment without compromising performance. We work at the intersection of regulatory requirements, environmental science, and engineering solutions to achieve our client's objectives.