Pittsfield, Maine – July 22, 2020 – The Zweig Group, a leading research, publishing, and advisory services consultant in the AEC industry, has recognized Kleinschmidt Associates with two Marketing Excellence awards in the website and social media categories.  All entries were judged by a team of marketing professionals who evaluated overall creativity, messaging, and results achieved.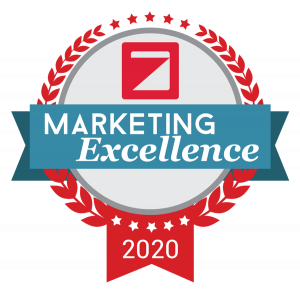 As part of Kleinschmidt's Marketing plan, research was conducted to determine what would appeal to our clients and partners in the industries we serve. Our ultimate goal was to create a modern website and social media presence with a focus on company culture, technical knowledge of our staff, and the practical solutions our team provided to the complex projects we do for our clients. We added video components and highlighted our subject matter experts to educate and inform, as well as develop more inbound leads. Both our social media presence and our website are critical for attracting new staff, potential clients, and teaming partners.
Russ Sanford, Kleinschmidt's Chief Marketing Officer states, "We have strong relationships within our industries, and we want to leverage those relationships to continue advancing our understanding of the engineering and environmental complexities affecting energy, water, and the environment. The judges noticed that we invest significant resources that provide educational opportunities through our STEM outreach, summer internship program, National Engineers Week promotion and our RAS-Solution blog and Vodcast that are part of Kleinschmidt's Knowledge Hub. These programs are reflective of our Core Values of technical excellence and continuous learning and growth, so it's an honor to be recognized for these awards that acknowledge this investment and commitment."
"We are honored and delighted to receive these Marketing Excellence awards from Zweig. As a marketing professional, your goal is to strive to provide the best materials and communications to effectively position and represent your firm. To be recognized for these efforts is very rewarding!," says GinaRenee Autrey, Marketing and Communications Leader, Kleinschmidt Associates.
The Zweig group Winners will be honored at the 2020 Elevate AEC Conference in Denver, CO, September 30-October 2 and at Zweig Group's Virtual Elevate AEC Conference on October 16. Winners will be featured in Zweig Group's weekly management newsletter, The Zweig Letter, and Zweig Group's other marketing channels.
About Kleinschmidt
Kleinschmidt Associates performs engineering, regulatory and environmental consulting for North American energy companies and governmental agencies who strive to protect and enhance the natural environment without compromising performance. We work at the intersection of regulatory requirements, environmental science, and engineering solutions to achieve our client's objectives.