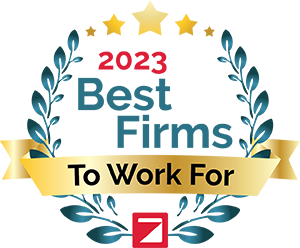 Pittsfield, Maine – June 13, 2023 – The Zweig Group, leading research, publishing, and advisory services consultant in the AEC industry, has recognized Kleinschmidt Associates as a winner of the 2023 Best Firms to Work For Award.
This award honors the outstanding architecture, planning, environmental, and construction firms to work for in North America. Firms are recognized for their ability to inspire their teams to perform at the highest levels. They've created an environment where their people feel valued, can make a difference, and can clearly see where their contribution fits into the overall mission and success of the firm.
"Consistently placing as a Zweig Group Best Firms to Work For recipient is a testament to our employees. They play a pivotal role in building and refining our company culture, and their valuable feedback allows Kleinschmidt to continue a successful path in the future." says Ashley Fowler, Director of Human Resources, "I'm proud of our people-first culture as it creates an environment where employees feel valued, can make a difference, and contribute to the overall vision and success of the firm."
"The Best Firms To Work For program is more than an awards program. It is a powerful and industry-specific benchmarking platform that provides a view of what the employee experience looks like in today's top performing AEC firms," said Zweig Group CEO Chad Clinehens. "Firms can use this ranking and the data it yields to develop strategies and initiatives to drive greater returns on the investment in their people. With the current unprecedented challenge in the labor market in the AEC industry, winners of the 2023 Best Firms To Work For have much to celebrate this year."
About Kleinschmidt:
Kleinschmidt Associates performs engineering, regulatory and environmental consulting for North American energy companies and governmental agencies who strive to protect and enhance the natural environment without compromising performance. We work at the intersection of regulatory requirements, environmental science, and engineering solutions to achieve our client's objectives.
About Zweig Group
Zweig Group, three times on the Inc. 500/5000 list, is the industry leader and premiere authority in AEC firm management and marketing, the go-to source for data and research, and the leading provider of customized learning and training. Zweig Group exists to help AEC firms succeed in a complicated and challenging marketplace through services that include: Mergers & Acquisitions, Strategic Planning, Valuation, Executive Search, Board of Director Services, Ownership Transition, Marketing & Branding, and Business Development Training. The firm has offices in Dallas and Fayetteville, Arkansas.