Juvenile Alewife Passage through a Compact Hydropower Turbine Designed for Fish Safety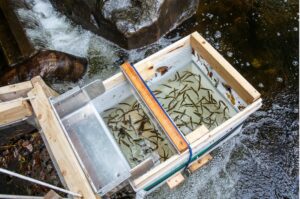 A team of Kleinschmidt Employees conducted a research study at a small hydropower plant in Freedom, Maine, to test the effectiveness of turbines designed for the safe downstream passage of fish. The study focused on the juvenile life stage of the Alewife Alosa pseudoharengus, a major migratory species on the Atlantic coast of North America. The results showed that the Restoration Hydro Turbine (RHT), operating under 7.5 m of gross head, is an effective way to pass juvenile alosines downstream at hydropower facilities. Groups of 140–170 fish were released into the RHT, and the combined immediate and 48-hour survival rates (±95% CI) for all treatments were 98.2 ± 2.0% and 100.0 ± 6.6%, respectively. The passage of Alewives through the runner region of the turbine was also captured with high-speed video. This study is a significant step forward in mitigating the effects of hydropower operations on the environment and provides valuable insights into the safe passage of riverine fish species through hydropower facilities.
Read the full technical article by clicking below.
Download PDF
Contributions made by: Jesse Wechsler, Bryan Apell, Lynette Gardner, Paige Thompson, Chris Frese , and Kevin Nebiolo
About this Journal
The North American Journal of Fisheries Management promotes communication among fishery managers with an emphasis on North America and addresses the maintenance, enhancement, and allocation of fisheries resources. It chronicles the development of practical monitoring and management programs for finfish and exploitable shellfish in marine and freshwater environments.