To Be or Not to Be….
In William Shakespeare's play – The Tragedy of Hamlet, Prince of Denmark – the main character, Hamlet, agonized over the decision 'To be, or not to be,' to continue and fight against obstacles and troubles or to die and no longer face those obstacles. Some dam owners may struggle with a similar thought process of whether to rehabilitate aging infrastructure or pursue dam decommissioning.
We know each project is unique and there are numerous reasons that you may be considering dam decommissioning such as if the dam no longer serves its intended purpose of providing power; or if major public, safety, and/or environmental concerns exist that cannot be mitigated due to a lack of adequate funding or resources to maintain the dam infrastructure. We have experience with over 30+ dam decommissioning projects across North America, and in keeping with the drama of Hamlet, we would like to share our Playbook for Dam Decommissioning & Removal.  We cover all six stages of the process from Pre-Feasibility to Post-Construction and Monitoring and include FERC regulated, non-FERC regulated, and Canadian dams. We are here to help guide you through this process and make it as smooth as possible.
The playbook is complimented with the Play Exposition: Factors to be Considered where we provide details on many of the primary environmental and social issues typical of a decommissioning project.
A preview of the document can be viewed by clicking the image to the right. To view and download the complete document, please fill out the form below.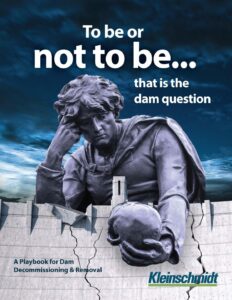 If you would like to schedule a consultation with a member of our dam decommissioning team, please email us at solutions@kleinschmidtgroup.com.