Jordan Hydroelectric Project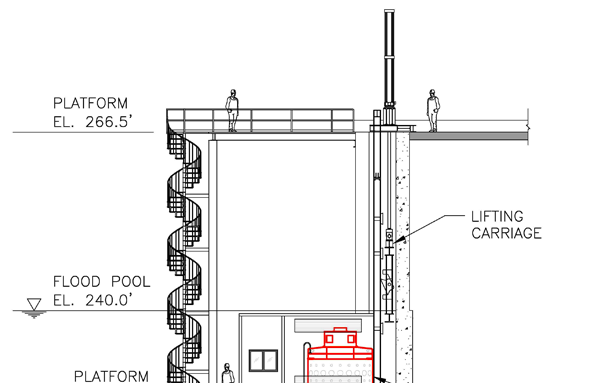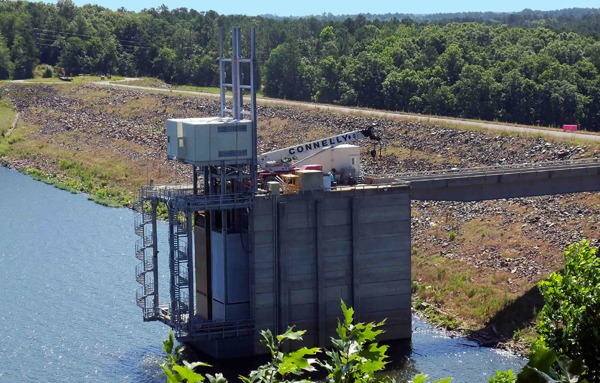 Innovative use of vertical turbines on flood control dam
The Jordan Hydroelectric Project is located on the New Hope River at a 115′high flood storage dam owned and operated by the Army Corps of Engineers (USACE). The concept for the hydroelectric project was the brainchild of the project developer – construct an economical hydroelectric project on an existing discharge tower and operate in the best interest of public safety and environmental stewardship.
Kleinschmidt and North Fork Electric, Inc., were co-designers of the project and worked closely in the development of the innovative concept for the project, its layout, final design, fabrication and construction. The project's two conventional turbine-generators were installed in individual, steel enclosures (Module) that seals (like a headgate) to the upstream side of the tower's intake. The 180-ton Modules sit on the tower's invert when generating, and are raised to allow passage of flood flows. Due to the flexible nature of the design, power can be generated nearly 95% of the time without sacrificing any of the normal or flood control capabilities of the dam. Kleinschmidt was responsible for the structural design of the Module, support platforms and lifting system, and analysis of the intake tower to assess its ability to support the new loads. This is the first hydroelectric project of its kind in the United States using vertical turbines installed on a discharge tower of a USACE flood control dam.
The same engineering designs used for the Jordan Hydroelectric Project can be economically adapted at other water storage/control dams containing a discharge tower because the project did not utilize any proprietary or patented design, equipment, or operating systems. Adoption of the project's concept in other locations will lead to additional, cost-effective generation of clean, renewable energy.