Summary of Proposed Changes to the National Environmental Policy Act (NEPA) Regulations
The Council on Environmental Quality (CEQ) published a Notice of Proposed Rulemaking "Update to the Regulations Implementing the Procedural Provisions of the National Environmental Policy Act"; Federal Register / Vol. 85, No. 7 / Friday January 10, 2020. The proposed changes to the NEPA regulations cover the spectrum from perfunctory to consequential. The reoccurring theme of the proposed revisions is "back to the Act"– the changes are primarily justified via references to the original NEPA law.
Read the full analysis from Kim Fitzgibbons, Principal Consultant with Kleinschmidt, in this thought leadership piece.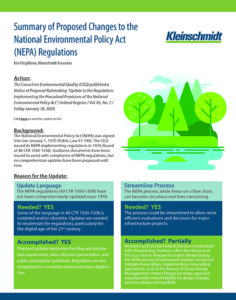 Read the PDF.