HEC-RAS Pub & Grub Recap
---
What a great time gathering together over some craft beers and great food!  The speakers were awesome!  Thanks to Gary Brunner, Cameron Ackerman, and Stanford Gibson for coming up and telling us all about great things to come in HEC-RAS Version 5.1.  I for one am super excited about the 1D Finite Volume solver, the new 3D visulalizer and all of the new preprocessing tools in RAS Mapper.  The ability to simulate non-Newtonian fluids will be a game-changer.  Keep up the great work HEC-RAS Team!  Pdf versions of the presentations can be found here: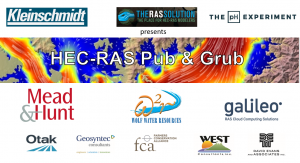 Once again, thanks to all of the sponsors for making this event possible.  And thanks to all of the attendees as well.  Glad you could make it out and looks like a great time was had by all.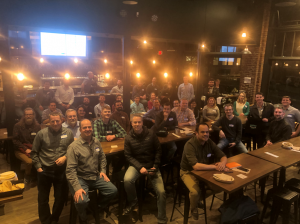 Finally, a HUGE thank-you to the Craft Brew Alliance's
pH Experiment
for providing the venue and a couple of top-notch bartenders in Dan Frantz and the Brewmaster himself, Tom Bleigh.  Very cool of you guys to donate all of the tips to
Rock Camp for Girls
and the
Oregon Brewshed Alliance
.
By all accounts, it was a huge success.  Keep your eye out for news on the next HEC-RAS Pub & Grub!
If you wish to provide feedback or offer suggestions for future Pub & Grubs, or are interested in helping to sponsor the next HEC-RAS Pub & Grub, please email me Chris.Goodell@KleinschmidtGroup.com or GinaRenee Autrey at GinaRenee.Autrey@KleinschmidtGroup.com