Construction Site Salmonid Redd Monitoring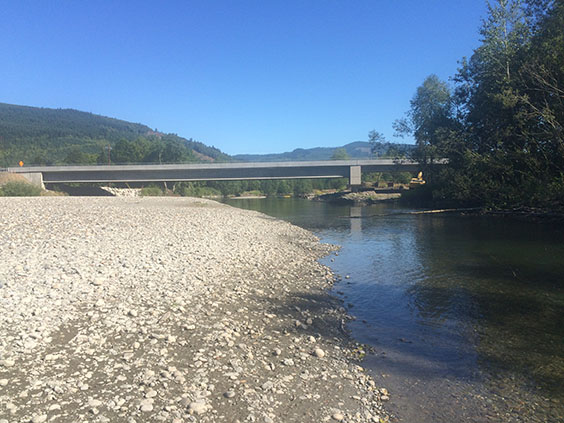 Monitored salmonid spawning activity to satisfy regulatory requirements
SB Structures was required to fulfill the Reasonable and Prudent Measure (RPM 3) of the National Marine Fisheries Service Biological Opinion related to potential impact of salmonid spawning activity at the Potter Road Bridge replacement project on the South Fork of the Nooksack River. The existing single-lane bridge (14.5 feet wide and 243 feet in length) was structurally deficient and functionally obsolete. The replacement structure was a 2-span, pre-stressed and post tensioned concrete girder bridge.
Kleinschmidt | R2 conducted weekly redd monitoring in the project action area for 4 weeks prior to in-water work and continued through the work window (15 July to 15 October) each of the 3 years of construction. The biologist visually observed the stream weekly for signs of spawning adult salmon and their redds. Salmon species of particular interest are federally protected Chinook salmon (Oncorhynchus tshawytscha) and steelhead trout (Oncorhynchus mykiss). These species have the possibility of spawning during the work windows. Any redds located were visually flagged, located by GPS and marked on aerial photographs of the site. All other fish observations were also noted.
Kleinschmidt prepared interim and final memorandums reporting survey results for the construction managers to indicate the level of fish use at the project locations and satisfy any permitting needs related to project construction.
Kleinschmidt | R2 ensured salmonid spawning protection by locating redds and working with SB Structures to implement appropriate methods to avoid impacts to redds. By doing so, project costs and duration were reduced by allowing construction during salmonid spawning windows.