Hawkinsville Dam Rehabilitation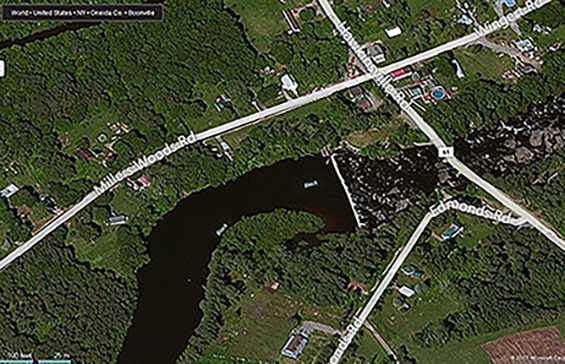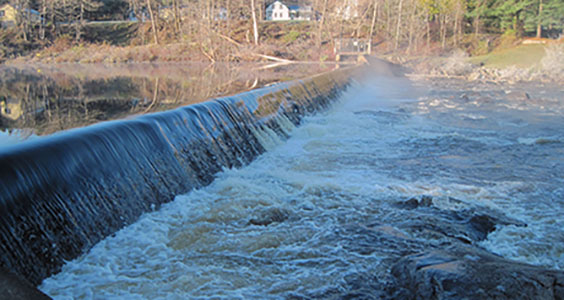 Alternatives analysis, design, and permitting of selected option
The Hudson River – Black River Regulating District (Regulating District) owns and operates the Hawkinsville Dam, a concrete dam that includes a concrete spillway, abandoned concrete intake structure, and two abandoned wooden sluice gates and an earthen embankment. The Hawkinsville dam was registered with the New York State Department of Environmental Conservation (NYSDEC) Office of Dam Safety as a Class B – Intermediate Hazard. In 2007, the Dam Safety Section of NYSDEC's Division of Water notified the Regulating District of certain deficiencies at the Hawkinsville dam including that the dam's spillway capacity is insufficient to pass the flow required to meet current safety standards. The Regulating District's Board required assistance in evaluating the potential benefits and cost of remediating or removing the dam.
The Regulating District engaged Kleinschmidt to 1) complete a final dam remediation study, 2) complete a final dam removal study, and 3) provide final design and construction monitoring services for the alternative approved by the Regulating District's Board. The study included an assessment of the two alternatives with regards to environmental, socioeconomic, recreational, aesthetic, physical, and regulatory issues associated with the project. In order to evaluate the proposed options, Kleinschmidt developed an updated hydraulic evaluation of the dam using detailed impoundment bathymetry and topographic data that were not previously available. The new evaluation indicated that the dam qualified to be reclassified as a Class A low hazard dam which substantially reduced the spillway discharge requirement. Based on the reclassification, the Regulating District has chosen to remediate the dam by extending the spillway, relocating the low-level outlet gate, and reshaping the eastern earthen embankment. Kleinschmidt has developed draft designs for the dam remediation.
Kleinschmidt provided a fresh perspective to the dam's hazard classification, then documented and petitioned NYSDEC to accept the reclassification. The reclassification improved the feasibility of remediating rather than removing the dam, saving Regulating District hundreds of thousands of dollars making the refurbishment a feasible solution.