Illabot Creek Stream Restoration Design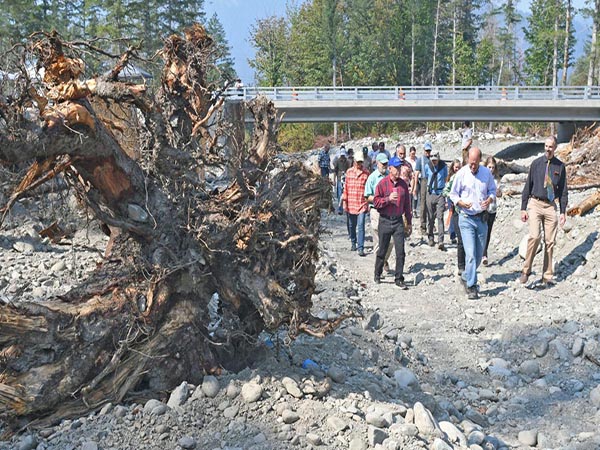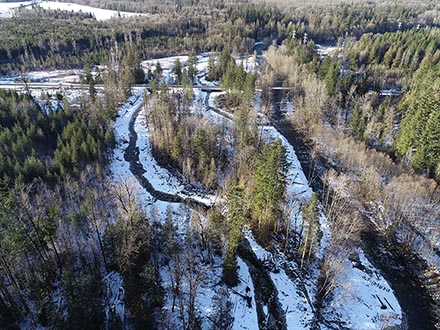 Award winning design leveraged natural processes to achieve stability
The Skagit River System Cooperative (SRSC) , which provides natural resource management services for the Sauk-Suiattle Indian Tribe and Swinomish Indian Tribal Community, required assistance with development of conceptual and subsequent designs for returning Illabot Creek to a more natural channel state.
KA | R2 conducted a geomorphic analyses that indicated the natural channel target state was a braided channel, with a primary main channel and one to two smaller, sub-dominant braids. From KA | R2 conceptual design alternatives, SRSC selected a three-bridge option that included constructing two new pilot channels with two new bridges, and left the existing bridge and main channel in place. We designed the two new channels to have a braiding pattern characteristic of the local reach slope, dominant discharge, and substrate size distribution. We designed a crib jam to protect a bend, and a number of modular engineered log jams (ELJs) to provide habitat over the near term as the channel evolved. The plan also called for removing extensive lengths of a large levee from the main stem left bank upstream and downstream of the existing bridge to restore overbank flow, channel braiding, and floodplain connectivity. Much of the project area is privately owned, and the designs reflected landowner goals and constraints. Part of the project area was located in the City of Seattle's high voltage transmission line corridor, which required special safety, constructability, and protection considerations for transmission towers and lines.
The project was designed to incorporate channel response to natural erosion and sedimentation processes and minimize risk to property. In addition, natural materials were used to avoid unintended refuse left after channel adjustment. These features ultimately reduced both construction and maintenance costs.