Lake Oswego – Tigard River Intake Pump Station Project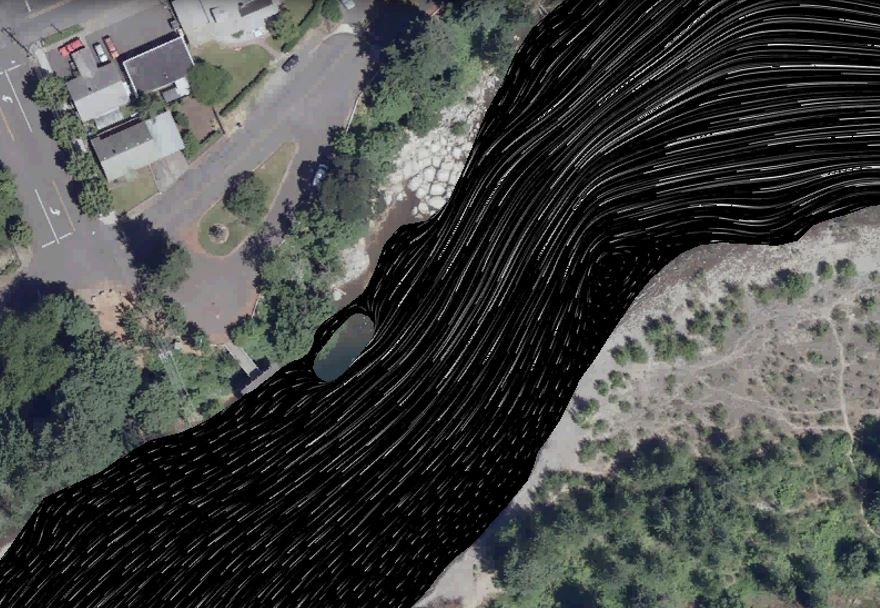 Hydraulic modeling for river intake pump station helps improve fish screen flow and debris management
The Lake Oswego – Tigard Water Partnership River Intake Pump Station Project provides a new municipal water intake for diverting up to 59 cub feet per second (cfs) of flow. The City of Lake Oswego required assistance in the planning, permitting, design, and construction support of the Pump Station and associated screened river intake.
Kleinschmidt developed initial alternatives with cost forecasting, prepared a conceptual design, negotiated with agencies, provided permitting assistance, conducted a hydraulic analysis with one-dimensional and two-dimensional (2D) river modeling, prepared a final design, and provided construction services for the new intake which protects fish and manages debris. The fish population includes: coho, Chinook, steelhead, as well as trout and other native fish.
The design includes three cylindrical intake tee-screens which are 36 inches in diameter and are cleaned by rotating the screens against a fixed brush with a motor enclosed in the screen (Intake Screen Inc.). Each screen can be readily retrieved with a track and hoist arrangement. A passively cleaned debris deflector was also incorporated into the intake.
We used 2D hydraulic modeling to guide design changes to the riverbed resulting in a 300-foot-long channel cut through the rock riverbed upstream of the intake to improve sweeping flow across the screens. The old intake was prone to a back eddy during low river flow that made debris management very difficult.
Kleinschmidt's design, which includes the screen cleaning feature as well as the reconfigured channel, has reduced maintenance requirements and associated costs while maintaining reliability of the intake.