Federal Energy Regulatory Commission (FERC) Requirements and Opportunity for Better Data Collection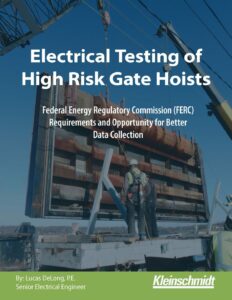 Kleinschmidt provides expertise in gate inspections and offers comprehensive solutions to enable the optimal performance and safety of water control infrastructure in compliance with FERC requirements. This can be achieved by leveraging available technology, such as three-phase logging power meters capable of capturing voltage, current, and power (kW) at a frequency of 1 sample per second or greater during gate operation. These advanced meters offer a deeper level of insight and analysis, including detailed plots of real power consumption over the complete operation of the gate. Kleinschmidt also suggests possible equipment upgrades, such as variable frequency drives for hoist motor control and networked metering for each hoist. These upgrades facilitate enhanced root cause analysis, predictive maintenance programs, and heightened situational awareness, protection, and diagnostics, enhancing the reliable and efficient operation of water control infrastructure.
Our Technical Paper provides a detailed discussion based on Kleinschmidt's technical expertise in providing comprehensive solutions to improve the performance and safety of your high-risk gate hoist structures to comply with FERC requirements.
When you fill out the below form the paper will automatically open.