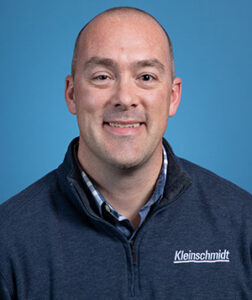 Falmouth, Maine – March 28, 2023 – Kleinschmidt Associates, an engineering, regulatory, and environmental consulting firm, is pleased to announce that Eric Turgeon has been approved by the Federal Energy Regulatory Commission (FERC) as an Independent Consultant. This approval allows Eric to conduct dam safety inspections and Potential Failure Mode Analysis required by Part 12D of FERC's dam safety regulations. As an Independent Consultant, Eric will evaluate the overall conditions of the project and identify actual or potential deficiencies that may jeopardize public safety.
To become a FERC-approved Independent Consultant, an engineer must have at least ten years of professional experience working specifically on dam projects. With more than 21 years of industry experience, Eric has evaluated and designed structures such as powerhouses, penstocks, trashracks, intakes, spillways, and gates of various types.
Eric currently serves as Kleinschmidt Associates' Structural Discipline Group Leader, providing technical guidance and oversight on a range of projects. He manages and/or performs quality control checks of engineering designs and calculations and participates in FERC, U.S. Army Corps of Engineers, and other dam safety inspections. He is also a SPRAT Level 1 certified rope access technician with experience performing penstock and Tainter gate inspections utilizing industrial rope access climbing and belaying techniques.
"It's an honor and a privilege to be recognized by FERC as an approved Independent Consultant," said Turgeon. "Assessing the overall safety of a high-hazard dam or hydro project is a challenging responsibility, one I look forward to. I enjoy the opportunity to dig into all aspects of a development, travel to and inspect different sites, and develop relationships with owners, operators, and regulators."
Eric holds a Bachelor of Science in Civil and Environmental Engineering from the University of Maine.
About Kleinschmidt:  
Kleinschmidt was founded in 1966 with offices throughout North America. Our practice areas include engineering, science, and planning services provided to power, energy, water, and government clients. Kleinschmidt's team specializes in hydropower and water resource engineering, FERC licensing, fish passage and protection, hydrology and hydraulics, and habitat analysis and restoration. Our mission is to provide practical solutions for renewable energy, water, and environmental projects. For more information, visit www.kleinschmidtgroup.com.