Pittsfield, Maine – November 17, 2020 – PSMJ Resources, Inc., in collaboration with Client Savvy, has recognized Kleinschmidt Associates as a winner of the 2020 Premier Award for Client Satisfaction.
The Premier Award for Client Satisfaction award is given to firms who demonstrate a commitment to giving clients a voice as a means to delivering excellent customer service, and a confirmation from clients that excellent service was received. Out of more than 300 firms, 25 were selected to receive this prestigious honor.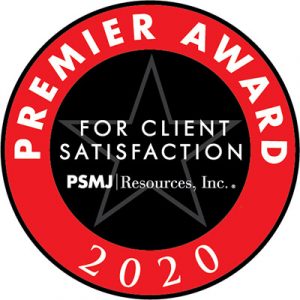 "Delivering projects that meet or exceed our client's expectations is always our goal, but our Client Listening Program (CLP) provides much more than just being able to understand how we performed. The CLP allows our clients to manage us at various project milestones depending on the scope and schedule of the project", says Russ Sanford, Chief Marketing Officer with Kleinschmidt, "They benefit by being able to highlight the characteristics (i.e. responsiveness, schedule, accuracy, etc.) of a successful project that matter most to them and their company. By constantly evaluating suggestions and making any necessary adjustments throughout the project life cycle, we are consistently able to improve their experience and deliver the outstanding project they expect from a trusted partner."
Winners were honored at the 2020 PSMJ Thrive Conference and will be honored again at the 2021 CXps Conference.
About Kleinschmidt:
Kleinschmidt Associates performs engineering, regulatory and environmental consulting for North American energy companies and governmental agencies who strive to protect and enhance the natural environment without compromising performance. We work at the intersection of regulatory requirements, environmental science, and engineering solutions to achieve our client's objectives.