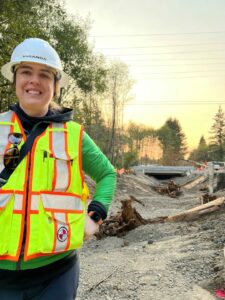 Redmond, WA– October 17, 2023 – Kleinschmidt Associates, a consulting firm specializing in engineering, regulatory, and environmental services, welcomes Miranda Smith, P.E., as a senior engineer in its Civil Engineering Section. 
Miranda brings 12 years of expertise in water resources and heavy civil projects to the team. Her background encompasses a range of specialties, including restoration design, hydrologic and hydraulic analysis, fish passage barrier correction, and engineered logjam design. Additionally, she has contributed to the rehabilitation and optimization of run-of-river hydroelectric facilities and has worked on infrastructure protection initiatives on large rivers.  
"Miranda's extensive background in water resources and her passion for ecological restoration make her a perfect fit for our team. Her expertise will undoubtedly strengthen Kleinschmidt, especially in the areas of hydrologic analysis and infrastructure protection. We are happy to have such a seasoned and passionate professional join our ranks." says Adam Haskell, Engineering Technical Director at Kleinschmidt. 
"My experience has focused on restoring fish passage to natal streams, rebuilding the ecologic framework that supports stream productivity, and applying my assessment skills to ensure resilient engineered solutions. At Kleinschmidt I find leveraging my passions to practical solutions very rewarding." says Miranda Smith, Senior Engineer at Kleinschmidt.  
Miranda holds her B.S. in Environmental Resources Engineering from Humboldt State University and is a licensed Engineer in Washington. 
About Kleinschmidt: 
Kleinschmidt was founded in 1966 with offices throughout North America. Our practice areas include engineering, science, and planning services are provided to power, energy, water, and government clients.  Kleinschmidt's team specializes in hydropower and water resource engineering, FERC licensing, fish passage and protection, hydrology and hydraulics, and habitat analysis and restoration. Our mission is to provide practical solutions for renewable energy, water, and environmental projects. For more information, visit www.kleinschmidtgroup.com.